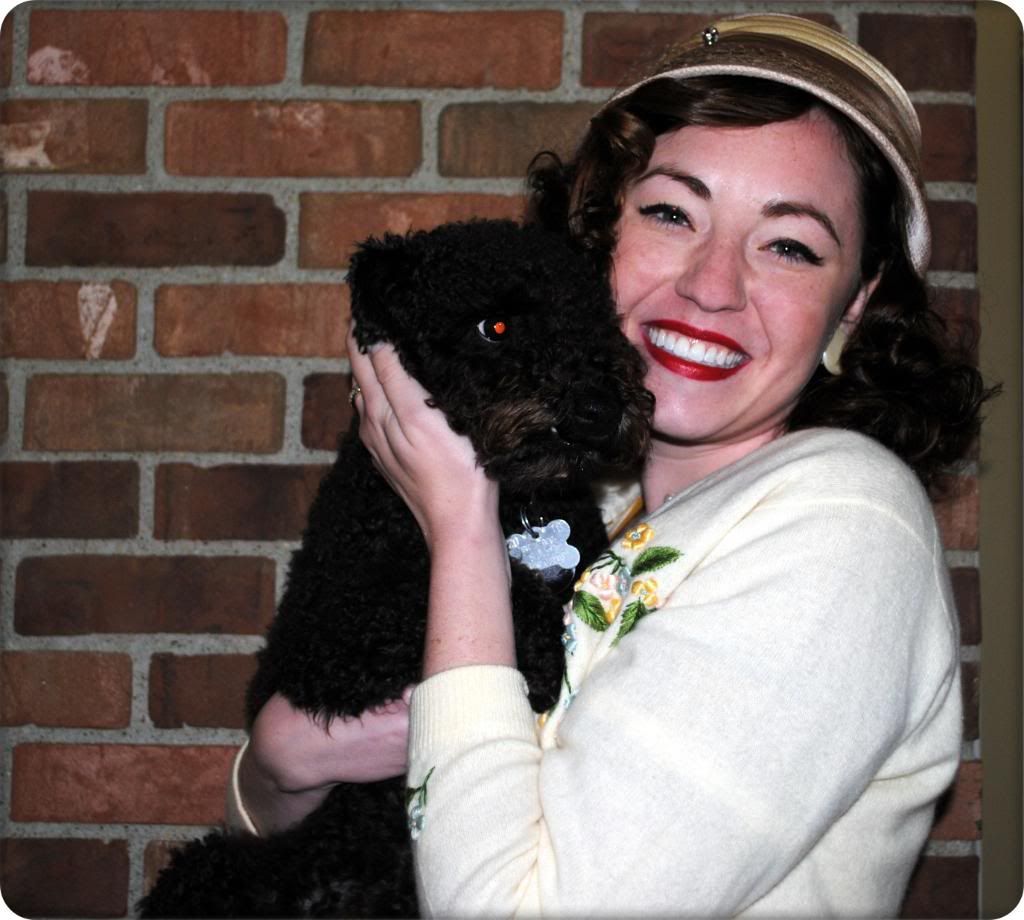 Well, today I went to our contemporary service for the first time in what seems like months. I'm always either singing in the choir at our late service (though not lately because of my respite care job) or teaching Sunday School during the middle service, that I never get to go to church at the same time as my parents.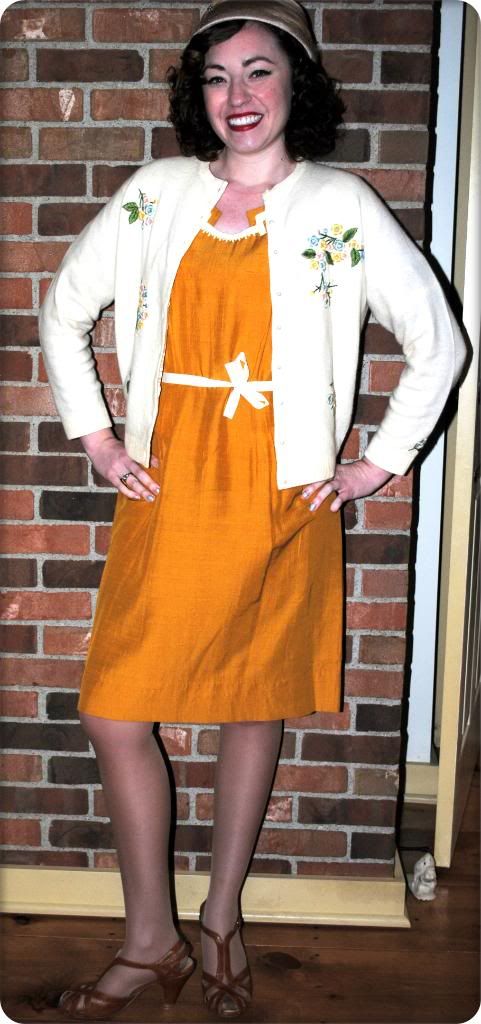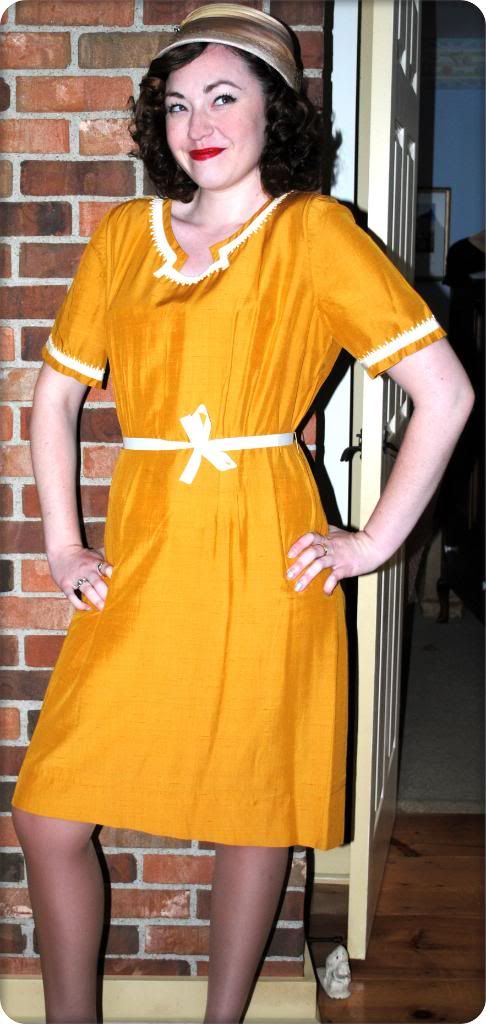 And it was freezing out today. Buuuuurrrr. It felt like winter. I need to find some more vintage sweaters, since I only have one. Thankfully, it went with my dress today. Little Dexter wanted to make an appearance on my blog too! He promised to pose extra cute :D
I set my hair in an alternating pin curl set because I planned on wearing a dress from the 50's, but....I didn't get it done, so I went with a 60's dress. Therefore, I just flipped my hair upside down and just ran my fingers through the curls a little with some pomade. Meh...I think it made me kind of look like the Swamp Thing, but, with a hat on it tamed those curlies down a bit.
Also, my mother, if you are friends with me on facebook you already know this, turned our spare bedroom into a sewing room and a place for me to hang my vintage clothes. Yes, I am 23 and still living with my parents. So, it's nice to have a full room to myself other than my bedroom and bathroom. I still have to hang up my pictures I have of stars from the 30s and 40s and my poster of Gone with the Wind up, but other than that it is finished. I even got a new sewing machine! Yay! I was pretty ecstatic.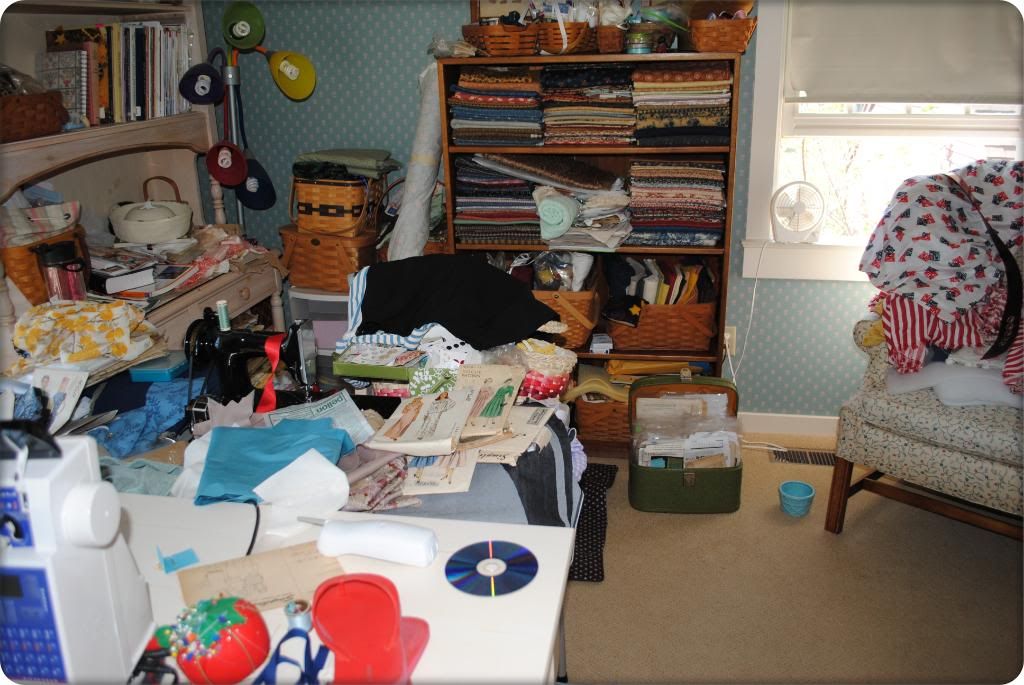 So, this was the sewing room my mom and I were sharing.....or that I took over.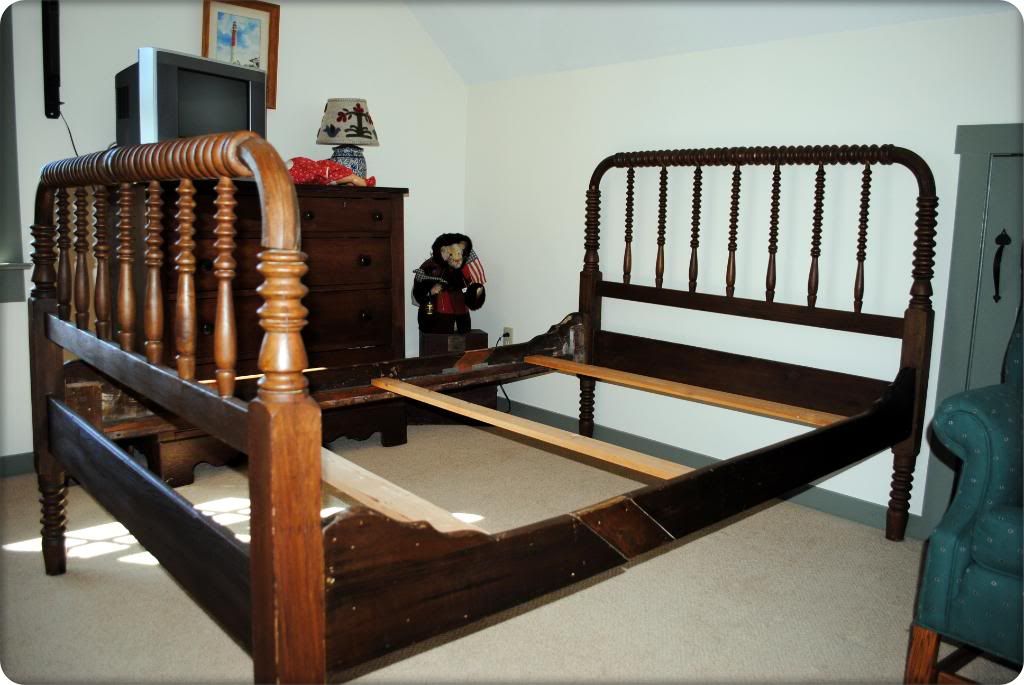 This was our spare bedroom that no one ever used because we never have company...like ever. We live very boring lives. I want to paint the walls and trim, buuuut, I got shot down. Dang it.
I am going to get another portable rack for just the clothes I am selling, or need to fix ,plus after I get all of my 14 yrs+ worth of dancing outfits out of the closet, I will be able to use it for my own clothes.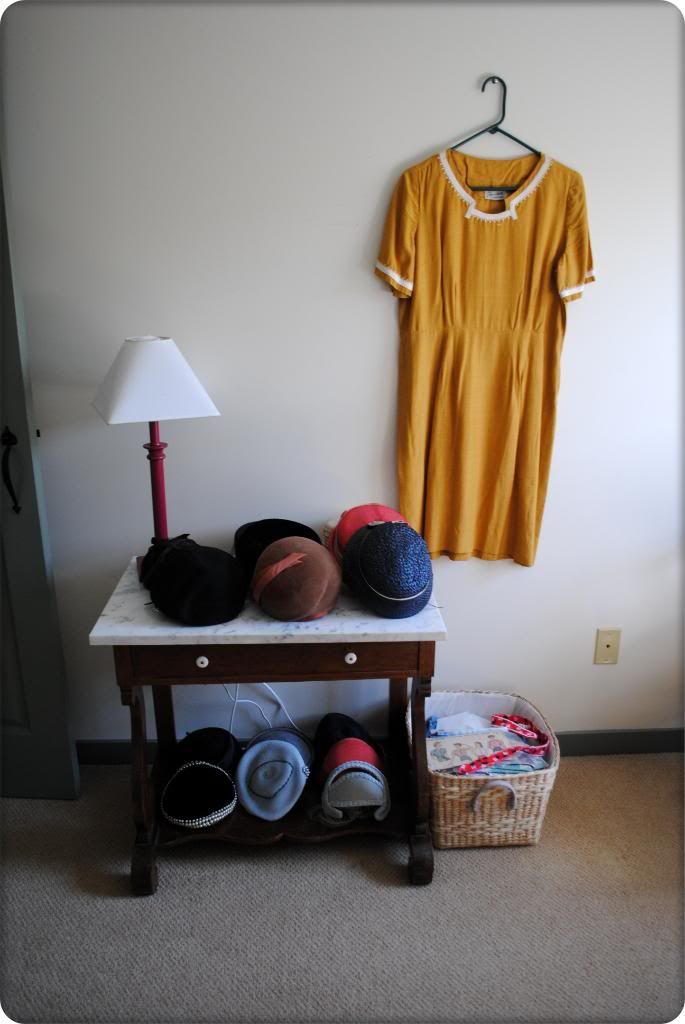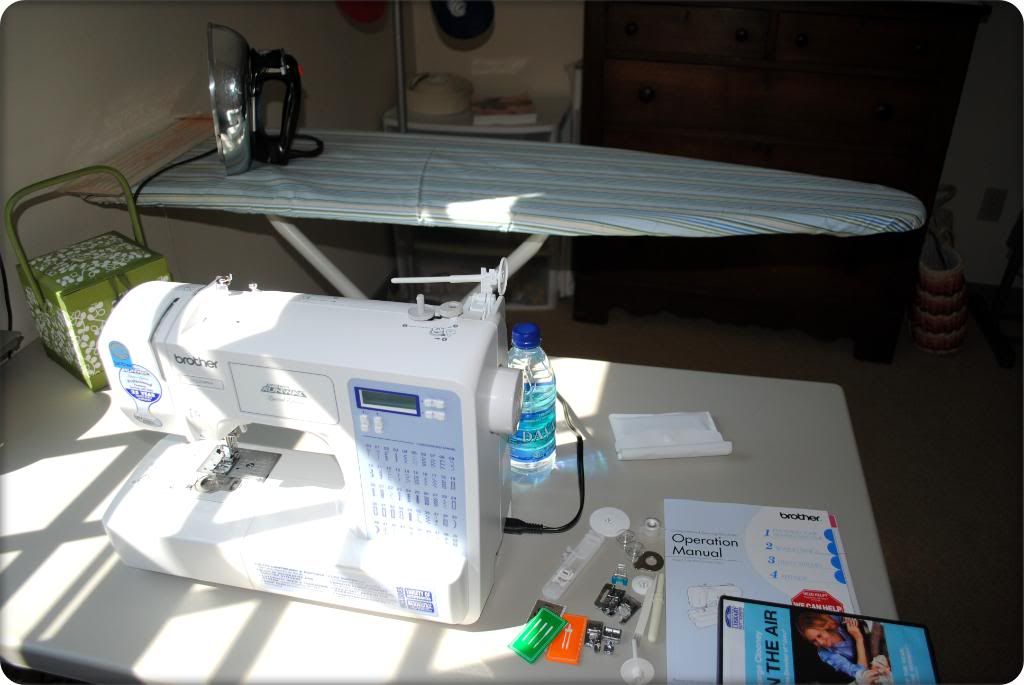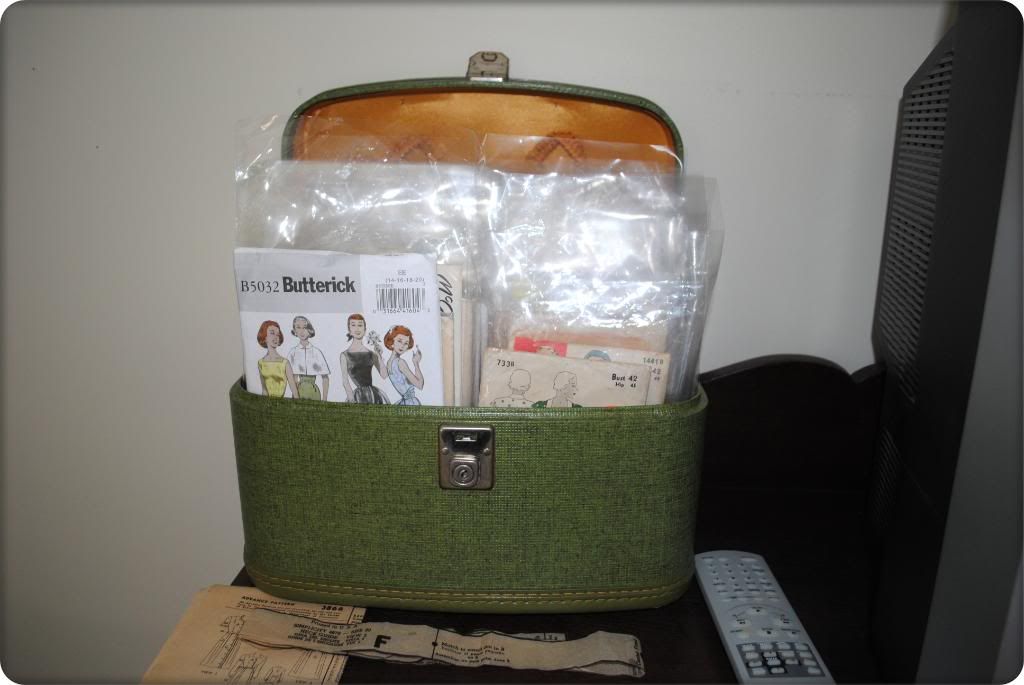 I went through and documented every pattern I own yesterday. I looked up information about the date or era, pattern company, number, and if anyone else is selling it and for how much. I discovered I own 91 patterns. I am in the process of listing about 20-30 patterns for my store.
And this is my humongo Gone With the Wind poster that will be hanging up somewhere prominent in the near future. It is somewhere down in our basement and I don't dare venture down there yet, with everything moved around due to a flooding we had. But soon.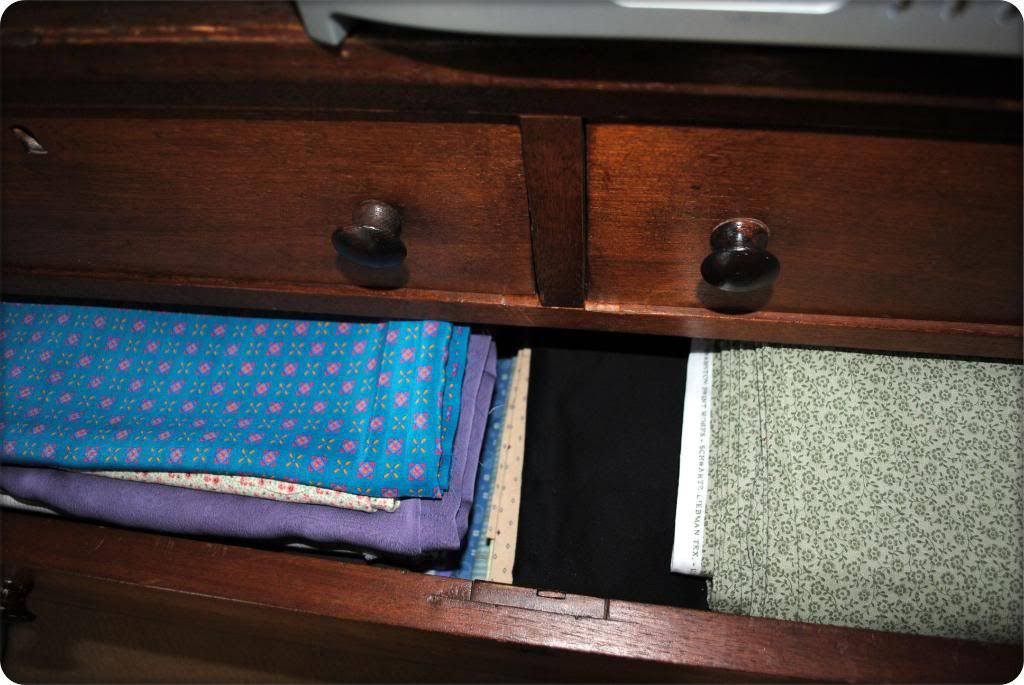 My top of three drawers full of fabric. When I say I don't need to dream up another sewing project I truly...truly mean it. And this room will never look this neat and clean and tidy again, so I better enjoy it while it lasts.
Welp. That's it for now. I am going to work on a Bible, movie, and book post later today, because I think I might have a lot to say about the sermon I heard today, and not all of it is good like last weeks.